Make your UBUNTU desktop look stunning with Conky
So you are looking to make your UBUNTU desktop look stunning, something as beautiful seeing which everyone will say just one word Wow !!
Hopefully by the end of this article you are going to be highly satisfied with your desktop when I show you how to make that happen....
Welcome to the world of CONKY
Conky
is a very powerful free widget for linux platform which can display any system related information which you want to show on your desktop. What is the relation between showing system information on the desktop and making the desktop look beautiful. Well as they say, a picture is worth thousand words, so let me show you what I mean
here
. If you like it I will tell you how you can get the similar awesome looking informative desktop.
Ok so looks like you liked what you saw. Now how to get a similar theme is what you are thinking! Don't worry here is what you need to do. All the steps are very simple and will take hardly a couple of minutes. Open Terminal and paste the following command in the terminal window and press Enter.
You might be asked to enter root password.
sudo apt-get install conky conky-all
Once the above command executes successfully, you are halfway there. Conky has been successfully installed in your system. Now let's quickly add Conky to the system startup so that when ever you boot your system and login you see if on your desktop. Here is what you need to do. You can download the startup script using the following commands...
wget -O .start-conky http://goo.gl/QYSOI
chmod +x .start-conky
Awesome. Now it's time to add the .start-conky application into your startup application stack. Here is how you can do it.
How to add Conky to startup program
Look for an application called "Startup Applications". Once you run this application you will see the below screen.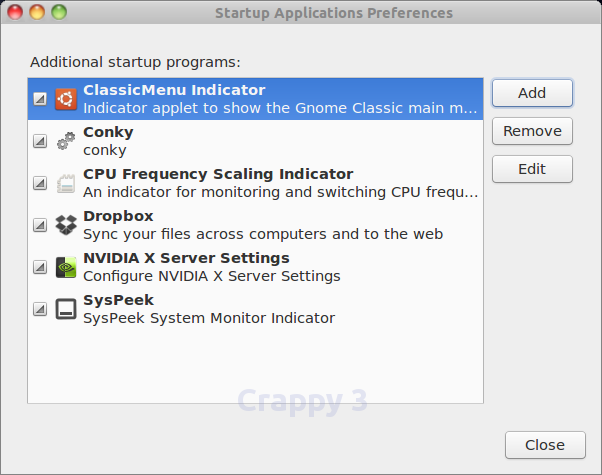 Click on Add.
You will be getting a "Add Startup Program" Prompt as shown below.
Give it a Name, any name... it doesn't really matter.
Click Browse to get the below screen.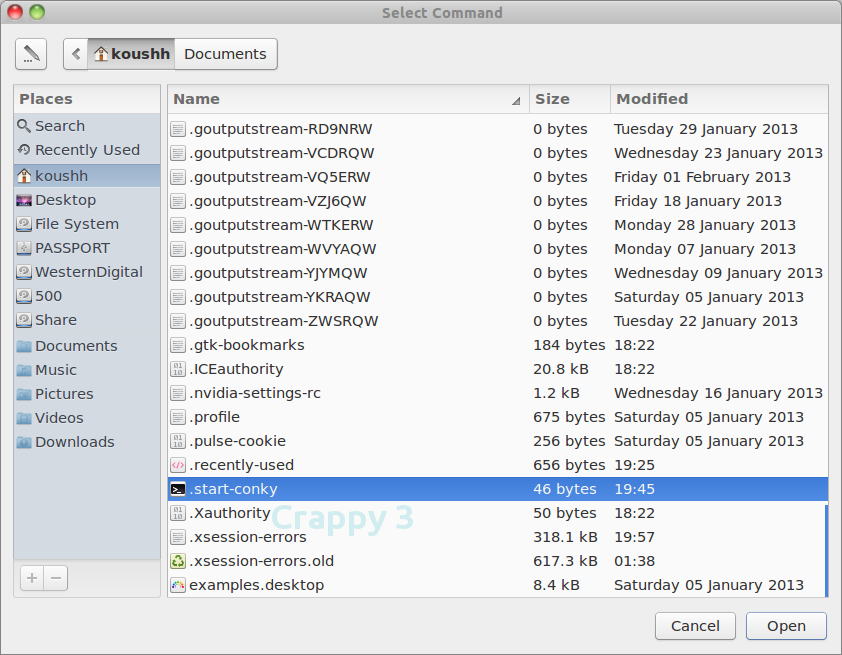 Select the file
.start-conky
Click Open.
Provide a comment if you would like to. This is an optional step anyway.
Click on Add.
Click on Close
Congratulations you have successfully added conky to your startup program. From now on everytime you log into your computer you will see conky running on your desktop. Does it look beautiful as the image I shown you earlier. Not really!! Is'nt it ?
Well we are not there yet. We need to modify the conky theme/config file in order to make the conky widget beautiful.
Let's quickly fix the theme. I have uploaded my theme config file
here
. Feel free to download and use the same as is. In order to use this here is what you need to do.
Go to your home folder. Paste the downloaded ".conkyrc" file in your home folder.
If you are not able to paste the file in the home location you might need to run Nautilus as Root.
I have 1920x1080 screen resolution in my desktop so I have setup the theme based on the space available. You might want to change the
offset
values accordingly to make it fit in your desktop.
Use the given command to open the config file as root and then you will eb able to edit the same
sudo gedit ~/.conkyrc
A quick tip, once you make changes to the above file, save the file
twice
, conky widget on your desktop will automatically show the changes by refreshing the screen.
Apply a dark wallpaper and you should be all set. Let me know if you run into any issues or have any comment and I will try to help you out.
Thanks for reading my article. Stay Tuned for more tips and tricks.